Refine Your Conference Room With Accord Mesh Seating
Posted by OfficeAnything on Dec 1st 2017

Nobody does professional office seating better than Global. This highly respected brand specializes in the provision of made to order chairs that encourage good posture and unrivaled appeal. Talk a look at the conference room chairs from their Accord series and you'll quickly see what we mean. If you're looking to refine your meeting area, this popular seating line is a must consider.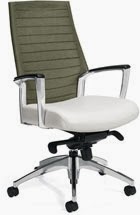 Accord chairs are distinctively modern yet still practical. The
mesh conference room chairs
from this collection are high end and incredibly well rounded. If you today's office chairs to be a bit boring and overly similar, this collection will definitely strike your fancy.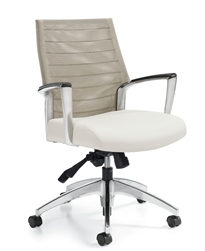 Global's commitment to quality and comfort is truly special. They've made it their mission to create
custom office chairs
that not only look great, but outperform the competition. Accord chairs are no exception. With thick padded seats and ventilated backs, you and your team will make it through extended gathering sessions with ease.
Accord chairs are available in leather and fabric variations. They're great, but we really love the mesh chairs from this line. Why you ask? Cool color options and exceptional support. Accord
mesh back office chairs from Global
are available in 10 back color options that pair perfectly with vinyl, leather, and fabric seats to create unique two-tone vibes that will earn your conference room daily compliments.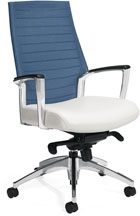 A choice of mid and high back variations are available from this upscale line of conference room seating. As the chairs from the Accord series are a bit more expensive than the market standard, you can definitely save a few bucks by opting for the mid backs. However, if you're looking to
create a high end conference room
to impress your guests, the high backs are the way to go.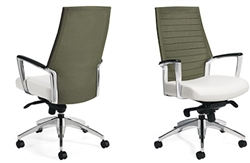 The chairs from this popular collection are all available for around $500.00. Upholstery options and chair components like the mechanism can definitely cause pricing to fluctuate up and down. Overall, Accord chairs definitely fall into the "luxury" category as they are intended for use in upscale environments.
If you want the absolute best for your conference room and won't settle for less, Accord mesh chairs are ready, willing, and able to help. We give this seating line a 5 out of 5 star rating. Accord chairs are built to last, extremely comfortable, and up to date with the latest trends.