Coming Soon: Bush Move 80 Series
Posted by OfficeAnything on Mar 20th 2018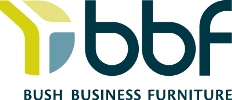 Are you ready to create an active workspace that encourages continuous movement and improves posture? The Bush Move 80 Series has your back! Over the next few days we'll be adding all of the height adjustable tables from this innovative line. Today on the blog we'll give you a sneak peek at the features and benefits the Move 80 series has to offer.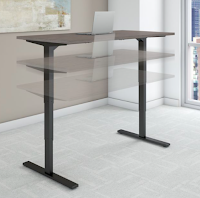 The height adjustable tables from the Move 80 series boast motorized bases that pair with attractive work surfaces. The table surfaces are constructed of thermally fused laminates with 9 color options available.
These
ergonomically correct office tables
adjust from 23 to 49 inches and operate at a speed of 1.5 inches per second. Those looking to quickly and efficiently transition between sit-down and stand-up positions to stay active will absolutely love the Move 80 line. These tables are easy to use, quick to adapt, and ready to help you work healthy.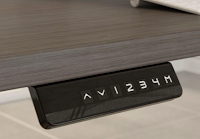 All of the
sit to stand tables
from the Move 80 series offer 4 programmable presets with a quiet, soft-touch start and stop. The UL listed electric motors connect to standard wall outlets with a 10' long power cord.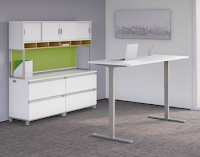 Rest assured, not all
ergonomic office furniture
is created equal. The tables from the Move 80 series are built to last with 16 gauge steel base legs that provide unrivaled strength with a 200 pound weight capacity.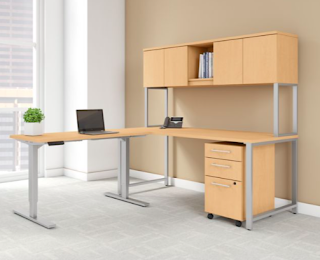 We found ourselves asking "What can't you do with these tables"? They're absolutely great in training, private office, and group work areas. Move 80
height adjustable tables from Bush
can even be used with executive components from popular lines like the 400 series to create ergonomically correct layouts that maximize appeal, functionality, productivity.
It's also worth mentioning that these tables don't cost a fortune. It just goes to show that you don't have to break the bank to work smart. Move 80 tables are backed by a 5 year warranty and ready for the demands of the modern workplace. As the sit to stand movement is in full swing, these designer tables that can be used individually or as apart of larger
executive office configurations
is the best in the business.