Design Versatile Training Areas with Enwork Tables
Posted by OfficeAnything on Jan 3rd 2019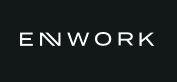 The team at Enwork takes pride in crafting top of the line training room solutions designed to encourage collaboration while simultaneously enhancing office appeal. Enwork tables offer exceptional versatility with a seemingly unlimited array of size and finish combinations to choose from. Today on the blog we'll highlight our favorite training table collections from this industry leading brand.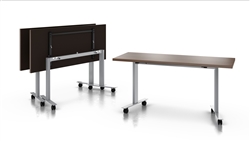 First up is the Solano collection. This line of
flip top nesting tables
from Enwork offers a blend of modern appeal and practicality that's hard to beat. Solano tables are available starting at $698.99. With user friendly flip mechanisms and mobilized bases, Solano makes it easy to create collaborative training environments that are ready, willing, and able to adapt on the fly.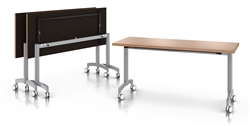 The
Sensation training table
collection from Enwork is perfect for creating group work areas and classroom environments. This line of tables offers awesome power options that will help streamline your strategizing sessions. Popular options like the LMRS1848A are available for $679.99 in 16 finish options.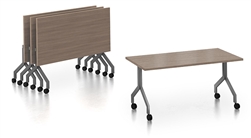 Enwork Ritz tables are a bit more cost effective than the other lines from Enwork. That being said, they're just as versatile. Ritz tables can flip, nest, and connect to meet the needs of any task. The most
affordable training table
from this collection is the RZ2448A. It features an 18"D x 48"W operating surface and is priced at $635.99.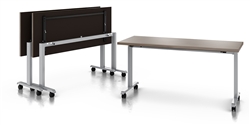 Moving right along, allow us to introduce the multi purpose tables from the Enwork Impression collection. They feature T shaped legs and large casters for ease of mobility. Impression tables live up to their name as they'll no doubt earn your
training room interior
the compliments it deserves.
Need something a bit more stationary? No problem. Check out
Enwork tables for sale
from the Apron collection. They're affordable, extremely well made, and great for just about any space you can think of. With models starting at just $274.99, the Apron collection is a must consider.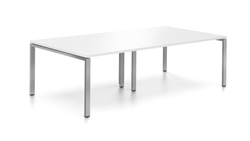 Collaborative benching has been incredibly popular this year. This booming trend continues to build momentum thanks to collections like eBench from Enwork. The ability to create large table configurations built for interacting and sparking creativity should be a top priority when remodeling your training room.