February Finds: New Products from OFM, Safco, and Offices To Go!
Posted by OfficeAnything on Feb 9th 2018
It's shaping up to be an awesome month in the world of furniture and seating. Brands like OFM, Safco, and Offices To Go are paving the way with products designed to improve corporate appeal and operational versatility. In this edition of 'February Finds' we'll showcase the cool new desks, tables, and chairs from these industry leaders. Prepare to be impressed!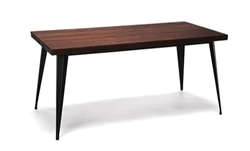 The all new Edge collection from OFM is poised for success in 2018. This line of industrial office furniture with retro flair offers mid century vibes and high quality components designed to last a lifetime. The 33362 model Edge
vintage writing desk
with metal legs features a solid elm wood surface that's stained a dark walnut tone that offers timeless appeal. This professional grade desk is perfect for home and business laptop users in need of an office style infusion.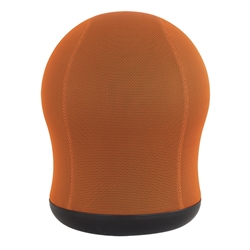 You'll also want to check out the ergonomic ball chairs and perch stools from the team at Safco. They're incredibly versatile and equally stylish. A
Safco ball chair
will help you stay active while computing at your desk. Our personal favorite is the 4760 model from the Zenergy line as it swivel to encourage core muscle movement. This inflatable chair is available in a choice of 5 attractive color options, including black vinyl for $199.99. However, the operational benefits gained are priceless!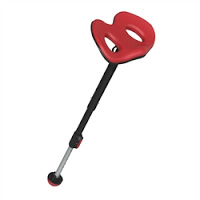 In addition to their ball chairs, Safco is rocking the workplace in February and beyond with
ergonomic perch stools
like the Mogo. This portable seat with a post leg can be used both indoors and out. The Mogo is great for workers on the go and is intended for use at standing height surfaces. At just $125.99, it's an absolute bargain buy.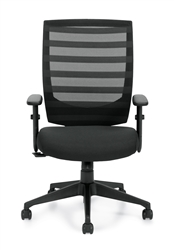 We're loving the new lineup of office chairs from Offices To Go. They're comfortable, affordable, and stylish. One of our team favorites is the 11920B. This user friendly
mesh back task chair
for everyday computing is being introduced at just $170.99 for a limited time. The 11920B packs a major ergonomic punch with its adjustable arms, tilter mechanism, ventilated back, and natural contours.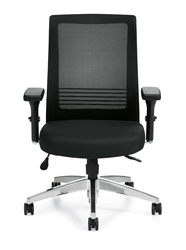 Going for more of an upscale look? Check out the 11325B! This
executive mesh chair with an adjustable lumbar support
is nothing short of luxurious. The best part is, it's also affordable. At just $234.99, the 11325B is not only the chair of the month, it's an early candidate to take our "Chair of The Year" award!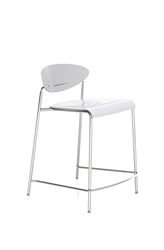 We're super excited to announce that we've officially added Indiana Furniture to our list of available brands. While their furniture is made to order and won't be found on our site, we did add their quick ship Eden and Toby. The Eden chair is a high end option for executive interiors while the Toby is perfectly suited for collaborative interiors like the conference room and training area. We love the Toby chair as it's easy to clean, durable, and available in 3 color options. The Toby line also offers
bar height and counter height stools
that can be used in break room, bistro, and cafe areas.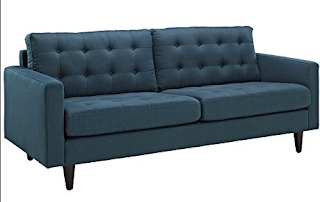 Last but not least, we're wrapping up this edition of February Finds with a bang. Take one look at all the new sofas we've added from Modway and you'll see what we mean. If you love the look of tufted furniture (and who doesn't), then check out a
mid century modern sofa
from Modway like the Empress. Available in fabric, leather, and sectional variations, the Empress is ready to impress! Modway's array of designer sofas also includes upscale options for high end home living room and office waiting area applications. With more than 40 new options to choose from, meeting your specific decor needs is a breeze. You'll also want to check out the complimenting accent tables from this reputable brand.