Offices To Go Mesh Executive Chair 2803

The 2803 model Offices To Go mesh chair offers high end ergonomic features for superior workplace support. This adjustable office chair works well in executive office applications. The breathable black mesh back is complimented by a black mesh fabric style seat. Height adjustable arms are standard on this exception seating solution.
Features:

Attractive, supportive, breathable Black mesh back and mesh fabric seat
Pneumatic seat height adjustment
Height adjustable arms
Infinite seat tilt lock with tilt tension adjustment
Back angle adjustment
Forward tilt control
Adjustable lumbar height
Scuff resistant high rise molded base with twin wheel carpet casters
Dimensions:

Overall - 27"D x 26"W x 39.5"H
Seat Height - 17.5"
Seat Width - 20"
Seat Depth - 18.5"
Back Width - 19.5"
Back Height - 20"
Arm Height - 8"
Features
Additional Offices To Go Textile Collections Available - Call 800-867-1411




All Offices To Go seating is manufactured exclusively in certified factories. All OTG brand chairs have been tested to ensure compliance with all applicable industry standards. You can sit comfortably in an Offices To Go chair knowing you have selected a quality product.
All Offices To Go chairs come with easy-to-follow assembly instructions and detailed photographs that make assembly quick and simple.
Offices To Go Chair Adjustment Guide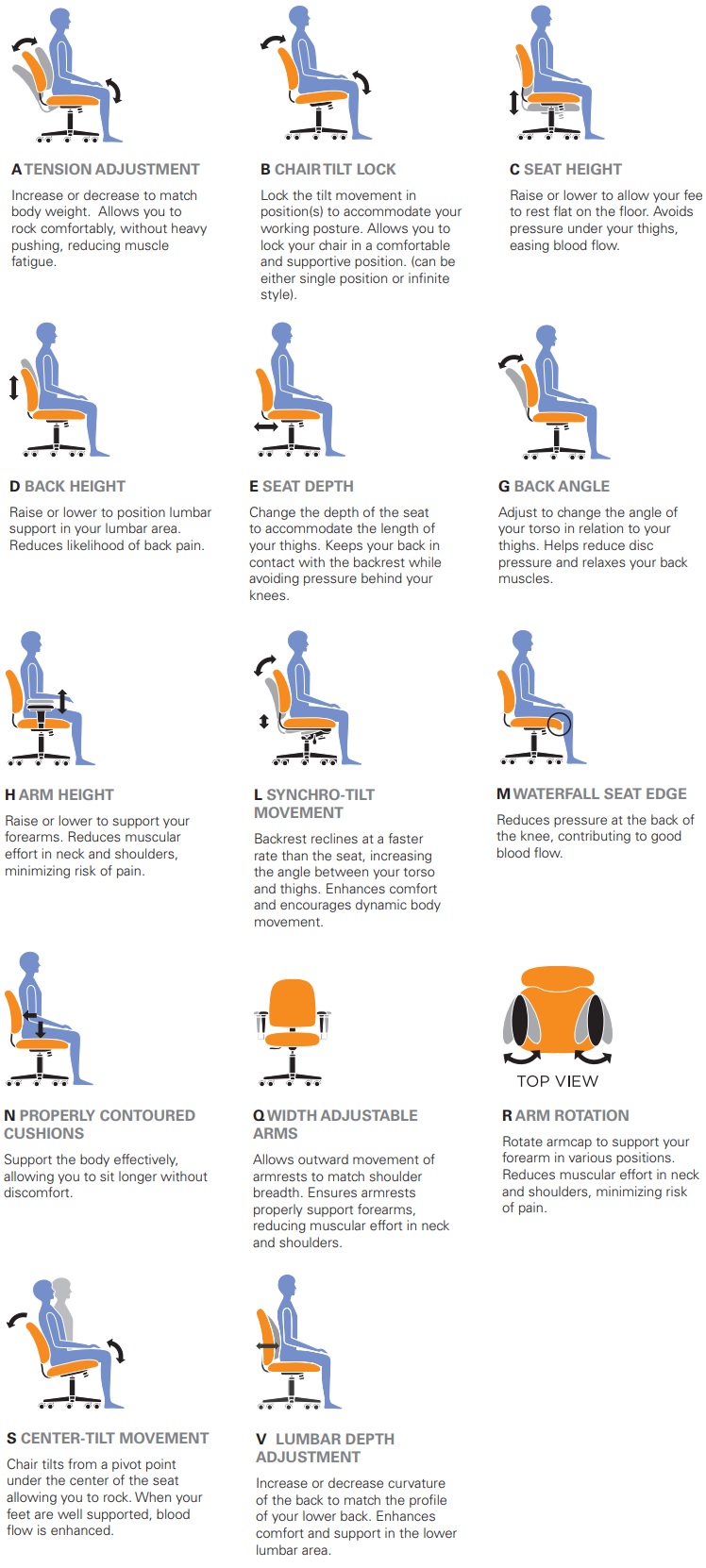 Offices To Go Seating Color Textile Program

All Offices To Go fabric chairs are stocked in either QL10 Black patterned upholstery, black mesh or black mesh fabric.
All Offices To Go Luxhide chairs are stocked in BL20 Black - Luxhide is a durable upholstery made from bonded leather consisting of 15% leather fibers with matching simulated leather trim.
All mesh back chairs are featured exclusively in black mesh (except models 10900B and 10902B which feature grey mesh backs)
Offices To Go chairs in custom textiles typically ship within 2 business days of purchase.
Certifications

GREENGUARD INDOOR AIR QUALITY CERTIFICATION - All Offices To Go seating and laminate products (unless otherwise noted by the manufacturer) are in compliance with stringent emission guidelines set out by the Greenguard Environmental Institute under the standards for low emitting products and materials.
Ergonomic Advice from Offices To Go

Ergonomics is the study that deals with the interaction between human and their activities. It is the practice of designing an environment to adapt to the characteristics of the people who are within it.
Studies have shown that productivity in the work place increases as a direct consequence of seating built with ergonomic considerations.
A well designed chair is comfortable and it supports the key areas of the body without restricting movement. After the common cold, more people see doctors abut back pain than any other ailment. Nearly 80% of the worldwide population will suffer back or neck pain at one time or another. These conditions receive great attention from doctors, chiropractors, physiotherapists, and other health care professionals, yet there is no one simple cure.
It is important to take care of your back to keep it healthy. Improving your posture and reducing the strains of everyday living will help reduce back pain and help you maintain a healthier back as you grow older.
Every Offices To Go chair is built with features that are ergonomically designed to promote proper posture and ensure maximum comfort when used correctly. While fully supporting your body, these features also allow you to adjust your chair to fit YOU.
Always select a chair that is designed for the type of work you perform and make certain the chair is comfortable for the length of time spent using it. Ensure that the seat at back cushions are contoured to fit your body. This will help to eliminate pressure points. An ergonomically designed chair should allow changing positions easily. As you work, reposition yourself throughout the day to reduce strain and stress on specific muscle groups. If you change job functions, adjust your chair accordingly to fit the new task.
Proper ergonomic seating should help eliminate many of the work related injuries that result from poor posture and poorly designed seating.