5 Reasons Why Executives Choose Medina Furniture
Posted by OfficeAnything on Feb 12th 2019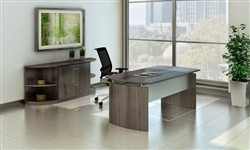 The Medina furniture collection has been modernizing professional interiors for years. This full service line offers exceptional quality, value, and appeal. With a wide range of desks and matching components, it's the natural choice for executive office remodeling projects.
1.) Design Versatility
With Medina, your layout options are practically endless. This furniture collection makes it easy to create open concept interiors that are up to date with the latest trends. Medina desks can be used individually, or to create spacious L and
U shaped configurations
that maximize available floor space.
2.) Extensive Selection
Executives love creating fluidity throughout office common areas. With Medina you can perfectly compliment your private office interior with matching reception stations, conference tables, and so much more. In terms of storage, Medina is second to none. This
best selling office furniture line
offers an array of low wall cabinets, mobile desk pedestals, bookcases, and hutches.
3.) Designer Finish Options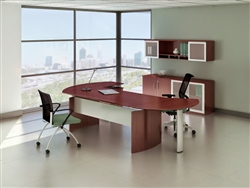 Tired of the same old cherry woodgrain tones dominating your interiors? Modern executives feel the same way! With Medina you can think outside the box and create unique work environments with fashionable laminate tones like Gray Steel, Brown Sugar, Sea Salt, and Mocha. Any interior designer will tell you, gray and white woods have been incredibly popular. With
Medina furniture
you can key in on the latest trends to earn your makeover project the compliments it deserves.
4.) Value
The Medina office furniture collection offers unrivaled value. Individual desks like the MND63 are available for just $378.99. All of the pieces from this line can be purchased individually, or as apart of
value priced desk sets
that help simplify remodeling projects. Medina's cost effective approach to office remodeling is a breath of fresh air in a world filled with budget breaking collections.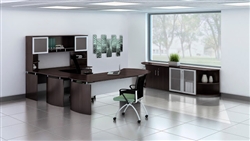 5.) Quick Shipping
Executives are always up against tight deadlines. That being said, waiting weeks for
new office furniture
isn't practical. With Medina, it's not a problem. All of the furniture from this line are typically in stock and leave the factory within 2 days of purchase. Medina orders typically arrive on site in just 5 to 7 business days.