6 Cool New Conference Tables To Consider In 2018
Posted by OfficeAnything on Mar 30th 2018
When tackling a conference room makeover project, finding the right table is a must. A fashionable conference room table will serve as the main focal point of your space while serving as the foundation of your remodel. This year brands like Bush, Mayline, and Cherryman are raising the bar with innovative tables in trendy finishes that will do wonders for your space. Today on the blog we'll show you 6 of our favs.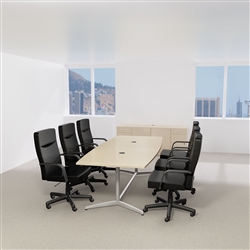 First up is the 99TBM96. This
Bush conference table
with metal legs and a 96" wide boat shaped surface offers an industrial look that's right on par with 2018's latest trends. This attractive yet practical conference room table is available in 3 quick shipping finish options for $809.99.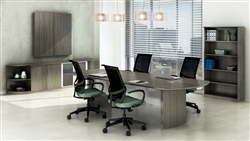 Next up is the MNC10 from the Mayline Medina series. This 10' conference room table in finish options like Textured Gray Steel will make your meeting area pop. The best part about a
Medina Conference Table
is that it can be outfitted with multiple power modules to help streamline your meetings without the need to go looking for power outlets. Even in this modern age of conference room furniture, power modules can be price. That said, the modules from the Medina series are only. $235.00 each!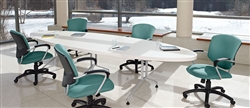 Third on our list is the GEL12WSTM from the Global Alba Series. This 12' long
white conference table
with an elliptical top and metal legs has everything going for it. If you're looking to design a contemporary space, this is the table for you.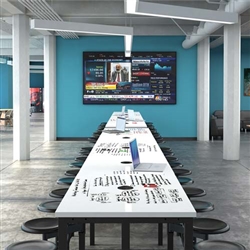 The same old conference table styles can be a bit boring. If you're ready to think outside the box while simultaneously improving functionality, the OFM Endure collection is the way to go. A
standing height table for collaborating
like the 9008 will take your space to the next level. With swivel out seats and a powered surface, it's hard to beat this trending line from OFM.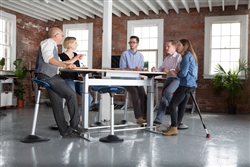 You can go ergo with in 2018 with the Safco Confluence Table. This height adjustable conference room table will help you and your fellow workers stay active. The Confluence is heavy duty, great for collaborating, and super easy to use. As sitting is now being referred to as the new smoking, the ability to stand throughout meetings and group sessions is just plain smart.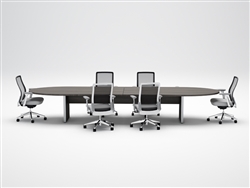 Last but certainly not least is the AM-409N. This
expandable conference table
from the Cherryman Amber series is ready to adapt and evolve as your operational needs increase. With a 12' long oval shaped surface, the AM-409N is great for collaborating. Now available in Valley Gray, these designer tables are amongst the hottest options on the market in 2018. Matching Amber wall cabinets and accessories are available to further compliment your space. At just $829.00, the AM-409N is also one of the best buys on the market. This table offers commercial quality at a price point any budgeting business will appreciate.