6 Ways To Work Smarter In 2019
Posted by OfficeAnything on Jan 11th 2019
Are you ready to take 2019 by storm? We've go you covered! Today on the OfficeAnything.com blog we'll highlight 6 ways to work smarter in the new year. From weight sensing office chairs to effective collaboration, the tips and product suggestions provided today will help lay the foundation for productive work days.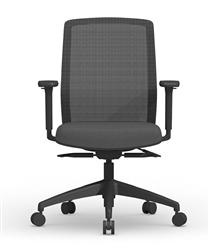 1.) Use A Weight Sensing Task Chair

Constantly pulling mechanism levers and twisting tension knobs to get comfortable can be a real drag. Thankfully, top office chair brands are minimizing the need to adjust with advanced weight sensing task chairs that handle the leg work for you. Popular weight sensing chairs like the
Atto from Cherryman Industries
are a must consider in 2019.
2.) Keep The Blood Flowing
Good blood flow is a must. All too often we sit stagnantly for hours on end. When this happens, fatigue sets in due to restricted blood flow. If you feel groggy and drained about half way through your work day, it's time to get your blood circulating. Stand up, walk away from the desk, shake out your muscles and get a drink of water. Professionals recommend taking one 5 to 10 minute break per hour.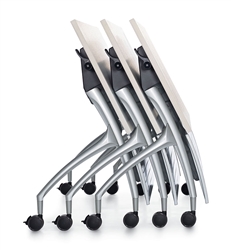 3.) Use Modular Components
Modular components make it easy to maximize square footage and operational functionality. The training room is the perfect example. With
flip top nesting tables
and chairs you can create effective layouts that can adapt on the fly to meet the needs of any task. When not in use, extra tables and chairs can be staged along perimeter walls. Modular components have also become the preferred choice for lobby and waiting room makeover projects. If you're ready to think outside the box with your commercial interiors, go modular in 2019!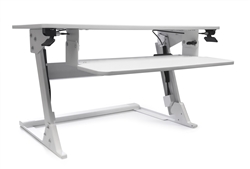 4.) Stay Active
Any ergonomic product enthusiast will tell you, it's all about staying active! With height adjustable office furniture you can transition effectively between sitting and standing to avoid fatigue and a variety of posture problems. We recommend investing in a
ergonomic sit-stand station
like the Volante from Systematix. It will work with just about any desk and have you working more effectively in a flash.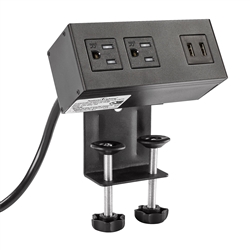 5.) Power Up Your Interiors
From the work floor to the conference room, powered office furniture is taking over. With AC, HDMI, and surface level inputs you can effectively charged devices and host presentations. Collections like Zira from Global offer some of the absolute
best powered conference tables
on the market. Brands like Bush Business Furniture offer user friendly clamp on modules that work with nearly any surface. In 2019, powering up you interiors will be easier than ever.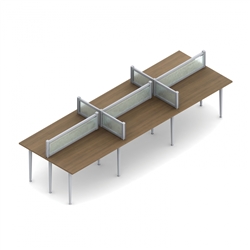 6.) Collaborate Effectively
Last but certainly not least, strive to work smarter in 2019 by collaborating effectively with your teammates. You can create open concept interiors built for collaboration with
benching systems
instead of cubicles. Take your collaborative efforts to the boardroom with connectable tables from the Global Bungee collection that can be used to create layouts of any size. Collaboration and creativity go hand in hand. When remodeling group work areas, effective collaboration should be a top priority in the new year.