7 Cool Reception Desks That Will Revamp Your Welcoming Area
Posted by OfficeAnything on Mar 5th 2019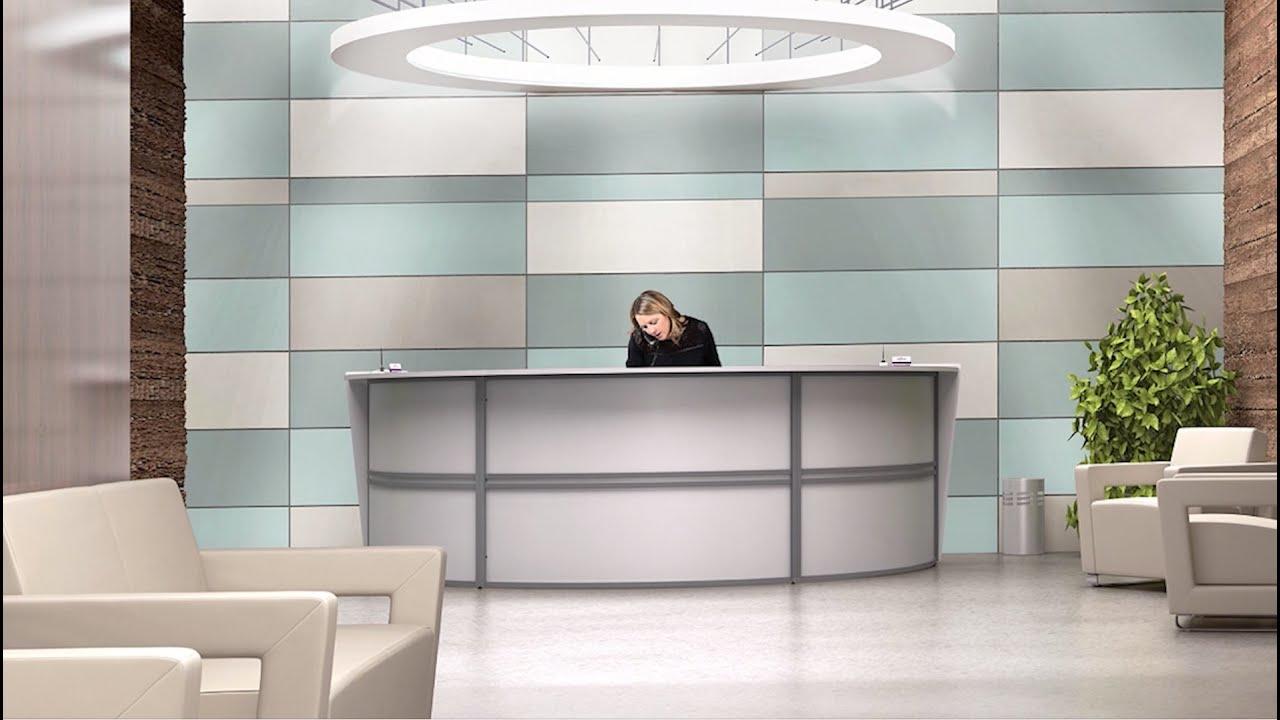 In business, first impressions are key. If you want to wow your valued visitors from the moment they walk in the door, a fashionable reception desk will certainly help your cause. Today on the Office Anything Blog we'll showcase 7 cool stations from brands like Cherryman, Safco, and Bush Business Furniture that will kick corporate appeal into overdrive. Enjoy!
1.) Cherryman Jade Reception Desk - Model JA-124N


The Jade collection combines modern and traditional vibes to create elite interiors. Jade reception desks like the JA-124N feature glass transaction counters for an added pop, in addition to reversible returns and full sized file pedestals for storage. Choose from 2 attractive veneer finish options.
2.) Safco Mirella Reception Desk - Model MRRD78
Talk about wow factor! The all new Mirella collection from Safco offers some of the hottest reception desks of 2019. Glass accents, integrated storage pedestals with organizing compartments, and unique silver bases work in harmony to make a professional statement your clients won't forget.
3.) Bush Series C Reception Desk - Model SRC096
Okay bargain shoppers, this two tone reception desk is just for you! The SRC096 from the Bush Business Furniture Series C collection is available for just $779.99 and includes a 3 drawer mobile pedestal that locks for security. The natural cherry and graphite gray color combination is sure to earn your space an abundance of compliments without breaking the bank. 6 additional finish options are available.
4.) OFM Marque Reception Desk - Model 55316
If you're remodeling a large guest reception area, you'll need a desk that's up for the job. Enter the 55316 model from the OFM Marque collection. This contoured reception desk is spacious, fashionable, and looks great from every angle. 4 finish options are available including white!
5.) OTG Superior Laminate Reception Desk - Model SL-O
The SL-O reversible L shaped reception desk from Offices To Go offers just the right amount of modern appeal needed to create a fashionable welcoming area without being too over the top. At just $599.00, This affordable desk is hard to beat. Attractive finishes like dark cherry, espresso, and autumn walnut make it easy to showcase your sense of style.
6.) Global Zira Reception Desk - Custom
Zira reception desks are completely customizable. If you're ready to think outside the box with your project, get creative with one of the most versatile furniture collections on the market today. Zira offers unique finishes, handle pull options, frosted glass upgrades, and so much more.
7.) Mayline Medina Reception Desk - Model MNRS
Hot finish options like Textured Gray Steel have put the Medina furniture collection on the map. This MNRS station boasts an 87 1/4" wide design that's complimented by a glass transaction counter and silver trim. Need more operating space? Check out Medina stations like the MNRSLBB. They include 48" wide returns and storage.