Deal Finder: 2018's Best Conference Table Buys
Posted by OfficeAnything on Jul 27th 2018
A well designed conference room will help your business host effective meetings and group strategizing sessions. With an unlimited budget, anybody can create a fashionable conference room. Unfortunately, that's just not realistic. In today's day and age, it's all about maximizing the budget! Today in our 'Deal Finder' series we'll showcase the best conference table buys of 2018. These cost effective tables offer the trend setting appeal and quality craftsmanship needed to take your space to the next level without breaking the bank.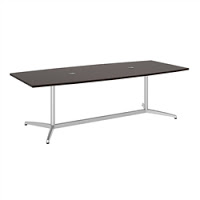 The commercial tables from Bush are ready for the demands of the modern workplace and perfect for professional conference room use. A
Bush conference room table
will help you create an interior that's built to last and up to date with today's standards. Bush tables like the 99TBM96 come equipped with boat shaped surfaces and heavy duty metal legs. This table priced at $809.99 is a great buy in 2018!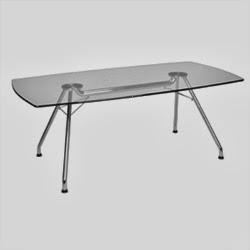 Up next is the
GT3977 conference table
from OFM. As glass tables go, this is the best buy of the year. In most cases, glass tables will run you well over $2,000.00. The GT3977 is available for just $875.99 and comes equipped with a heavy duty metal legs to create a contemporary-industrial vibe.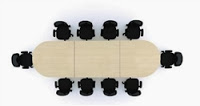 The AM-410N from the Cherryman Amber collection is the
best modular conference table buy
of 2018. This 14' long table with an expandable work surface is available in 6 finish options for just $700.00.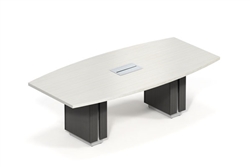 The
Global Zira collection
offers the most versatile conference tables on the market. This full service line makes it easy to power up your meeting space with fully customizable modules equipped with advanced input ports like USB, HDMI, and more. Popular tables like this Z4896BE are available starting at $1485.99 without power.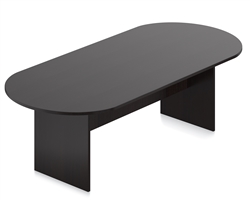 Last but not least are the tables from the Offices To Go Superior Laminate collection. They're all great buys, but the most popular is the SL9544RS. It features an 8' long oval surface and it's available in 4 quick shipping finish options. This table is the perfect option for businesses on a tight budget. At just $352.99, it's hard to beat! This full service line offers a wide range of
matching conference room components
including wall cabinets, presentation boards, and more.