Fab Finds: Upscale Ergonomic Desks
Posted by OfficeAnything on Oct 25th 2018
The sit-to-stand movement is in full swing. If you're on the hunt for a top of the line height adjustable desk for your workspace, today's post is just for you. In this edition of 'Fab Finds' we'll be looking at elite executive desks with sit-to-stand capabilites. These high end stations make it easy to stay active while working, improve posture, and reduce fatigue. Prepare to be impressed!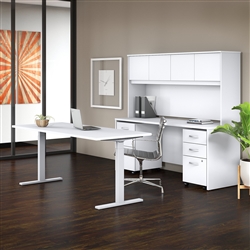 First up is the
STC016 ergonomic desk
configuration from the Bush Business Furniture Studio C Collection. Available in White and Storm Gray finish options, this layout is right on par with today's hottest finish trends. The STC016 includes a 72W height adjustable desk that pairs with a matching rear wall credenza, hutch unit, and two mobile file pedestals for $1728.99.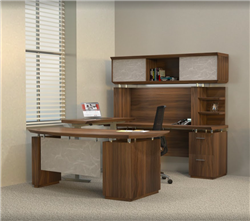 If you don't like the idea of purchasing all new office furniture and then adding a bulky desktop riser on top of the surface, you'll want to invest in a height adjustable workstation like the STL37H2 from the Mayline Sterling Collection. Talk about luxurious! This
ergonomic U shaped desk
for an executive interior boasts opaque acrylic accents, plenty of storage, and a height adjustable bridge that allows users to transition between sitting and standing in just seconds.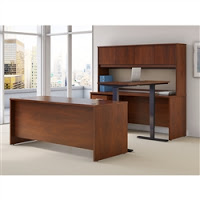 Upscale ergonomic desks are becoming more and more popular. Best selling stations like the SRE229 from the Bush Business Furniture Series C Elite collection can even be used effectively in more traditionally inspired applications. Going ergonomic doesn't mean you have to commit to an overly modern interior. This top of the line
executive U shaped desk
with a sit to stand bridge is the best of old and new.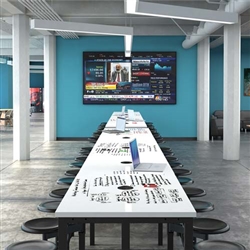 Like the idea of collaborating in groups to keep the good ideas flowing? Check out the multi purpose Endure workstations from OFM. They features standing height surfaces, swivel out seats, and powered tops with the inputs you need to stay effective!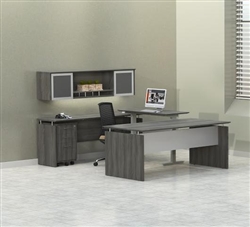 Here's another awesome desk from Mayline. The
Medina series MNT45H2 ergonomic workstation
is available in 5 finish options, including trend setting tones like Gray Steel and Textured Sea Salt. While modern, Medina ergonomic desks have stood the test of time and remain a go to option for industry professionals. This one is available for $1917.99.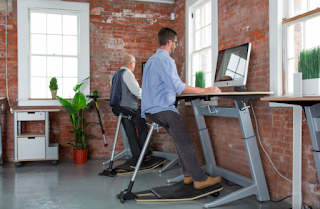 The Focal Locus standing desk is heavy duty, easy to use, and great for sit-to-stand transitioning. This high quality desk is available for $1211.99 in 4 finish options. With this height adjustable station you can manually adjust from 36" to 48". The desk surface tilts and supports up to 180 pounds. If you're searching for an ergonomic desk that can also be used as a drafting table, this is the product for you. Designed by Martin Keen, the Focal Locus is nothing short of professional.