Featured Product: Volante Desktop Attachment
Posted by OfficeAnything on Mar 14th 2018

The team at Systematix never fails to impress. In a world filled with ergonomic office desk attachments, their Volante stands in a league of its own. Trust us, we've tried dozens of these things. The Volante is a cut above the competition. This riser is extremely well made, versatile, and cost effective. Today on the blog we're taking an in-depth look at the Volante and the reasons why you should choose it for your ergonomic computing needs.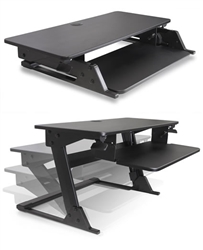 First let's cover the basics. The
Volante by Systematix
is designed to attach to any operating surface to create an ergonomically correct workstation. With the Volante attached you can enjoy smooth sit to stand transitioning to stay active in the workplace. Why is this important? Because sitting for long periods of time causes even the best posture habits to suffer.
The Volante will help you stay active when computing. When you work standing up, blood flow is improved and your muscles are working. This sit to stand attachment will help you limit energy dips and fatigue while simultaneously improving your posture.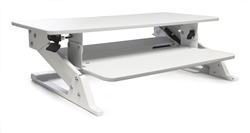 Volante ergonomic office desk attachments ship fully assembled for just $299.99. By industry standards, this is an exceptional deal. Many of the professional risers available on the market today are twice the price and don't perform half as well.
The compact footprint of the Volante allows it to be used on
office desks and tables
24" deep and larger. The gas assisted height adjustment provides smooth, quiet and infinite height adjustments to accommodate your specific operating needs.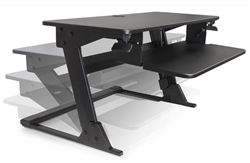 Volante risers can be extended up to 20" above the desk. The large primary operating surface accommodates two 24" monitors or a laptop. You can even
attach a dual monitor arm
if you choose in order to improve your adjustment capabilities.
You'll also notice an awesome keyboard platform. It tilts to allow the user to infinitely adjust the angle at which they type. This will help you fight back against office ailments like Carpal Tunnel Syndrome. The surface adjusts with the primary surface for improved ergonomics.
The surface grommet found on the top of the Volante is a nice touch that makes it easy to route wires. Additionally, this
helpful ergonomic office accessory
is ready, willing, and a blend to support up to 35 pounds!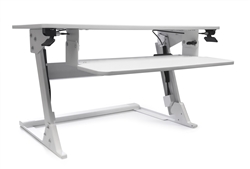 Looking to create a cool modern office space that's up to date with today's hottest trends? The Volante has you covered. This unit is available in a choice of white or black, but who are we kidding? White is the way to go!
The Volante weighs approximately 40 pounds and is light enough for simple installation and moving from desk to desk as needed. If you invest in this
best selling ergonomic product
you'll be rewarded with improved versatility and a healthier work day. The Volante is extremely well made and equally user friendly. It's our favorite desktop riser at any price point.