First Look: Global Terina Tables
Posted by OfficeAnything on Aug 13th 2018

The all new Global Terina collection is ready, willing, and able to take commercial interiors by storm. This line of multi purpose flip top tables offers exceptional quality, functionality and appeal. Today on the blog we'll give you a first look at Terina and the features that have it leaps and bounds ahead of the competition.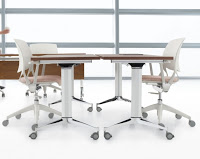 Terina is a line of
flip top tables on wheels
for training and conference room areas. Designed for productive collaborating, Terina has all the bells and whistles you'd expect in a cutting edge table line. Even at first glance you'll be drawn to the elegant aluminum bases with a T shaped design.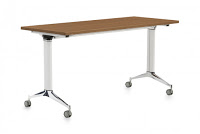 The
multi purpose training room tables
from the Terina collection will be available in more than 10 laminate finish options. Wood veneer finishes are also available at an up-charge. In our opinion, laminate Terina tables in finish options like Absolute Acajou and Asian Night are the way to go because they're on trend and maximize the budget. Quite simply, wood veneer tables are far heavier and a bit more difficult to move around. They also cost more.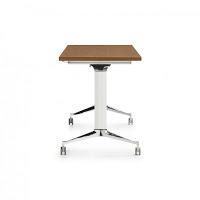 Looking to take your
collaborative office interiors
to the next level? Surface level cutouts and power modules are a nice touch that make it easy to streamline presentations and group activities. Adding a cutout to your table will cost about $50.00 with basic power modules running about $200.00 more. Not all of the tables in a training room need to be powered, but having a few with surface inputs will definitely come in handy.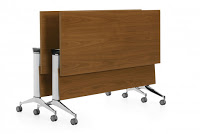 In terms of style, Terina is hard to beat. These tables are bold and modern while remaining practical and professional. Rest assured, there's no better looking line of
professional training room furniture
on the market today. Terina will quickly become a favorite of interior design teams and industry professionals alike as it's incredibly well rounded and versatile.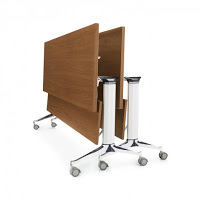 Creating a cutting edge training room comes at a price. Terina tables are definitely expensive, but we think they're well worth the investment. The 24" x 48" laminate Terina table will run you bout $575.00 each. If you opt to go with a veneer surface instead of laminate, the same table will cost approximately $345.00 more.
Terina will be a staple in Global's
office furniture
lineup for years to come. While expensive, Terina is one of the most complete and well rounded table collections on the market. With optional power upgrades, multiple sizes, and a cutting edge design characteristics, Terina represents where the industry is headed and a look at the future of collaborative interiors.