Furniture Life: The Best of May 2018
Posted by OfficeAnything on Jun 5th 2018
Month after month we continue to be impressed with new product releases and exciting furniture from brands like Bush, Global, and other industry leading brands. May was no exception. We were rewarded yet again with innovative seating and the emergence of new design trends that are poised to reshape commercial interiors across the country.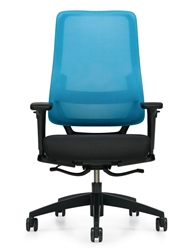 The product of the month (and possibly the year) is the Sora chair. This new release from Global is an absolute winner. The
Sora weight sensing office chair
is available in high back and mid back variations starting at $499.99. We're pleased to announce that we're the first to have it available online in all 24 mesh color options. This chair packs a serious ergonomic punch by minimizing the need for constant adjusting. The 6941 and 6942 model Sora chairs are definitely worth a look if you're in the market for an intensive task chair.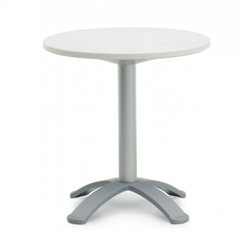 Global also showed us their ability to think outside the box with the Bakhita collection. This line of
multi purpose tables
and chairs is perfect for indoor and outdoor applications. The Bakhita collection offers exceptional durability, appeal, and value. A variety of bar and dining height products are available that work great in bistro, waiting room, break room, and cafeteria environments.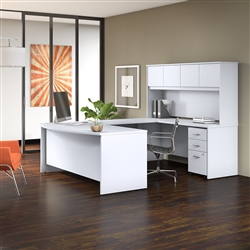 It's no secret in the design world that gray and white office furniture finishes are incredibly popular. The Studio C collection from Bush has them both. This line of
discount office furniture for sale
in Storm Gray and White laminate finish options offers commercial quality workstations for executive applications and so much more. With the modular components from Studio C you can create multi user workstations, L shaped desks, and layout that maximize your available square footage. It's our newest furniture line at OfficeAnything.com and we're super excited about it. We'll have more than 20 new Studio C layouts added before the end of June.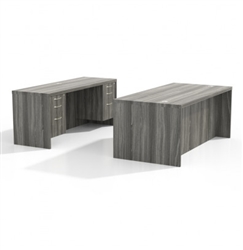 Did we mention that gray office furniture has been really popular this season? Brands like Mayline and Cherryman are both bolstering their product offering with new workstations you'll definitely want to check out. The Aberdeen series from Mayine and Amber series from Cherryman are affordable, very well made, and super stylish.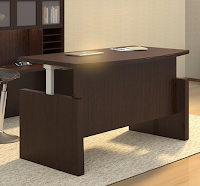 We just heard a rumor that sit to stand Medina and
Aberdeen desks from Mayline
will eventually be available to help encourage continuous movement in the workplace. Sit to stand products have gone from trend to industry standard. The improve posture, reduce fatigue, and greatly improve operational versatility.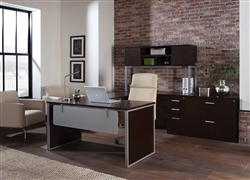 Last but certainly not least, we took the liberty of adding a few custom configurations from the all new OFM Fulcrum series. While these pieces are available individually, we thought it would be helpful for shoppers to fully visualize the potential this
industrially inspired office furniture line
has to offer while simultaneously simplifying the office remodeling process. Fulcrum workstations are available in 4 quick shipping finish options. Pics permitting, we'll have a lot more of these layouts available in the coming weeks. When it comes to cool products and pictures to show them off, OFM never lets us down.