Monday Motivation: Step Up, Step Out, and Be Active!
Posted by OfficeAnything on Sep 17th 2018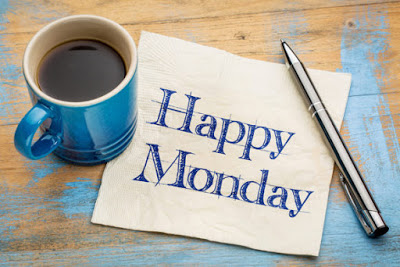 Are you dealing with a serious case of the Monday's? If so you're in the right place. In our new blog series 'Monday Motivation' we'll highlight ergonomic tips, product suggestions, and innovative ways to kick your week off productively. Today is all about staying active to reduce fatigue and improve blood flow. Enjoy!
First things first, you've got to come to work in the right mindset. Step up to the plate with a positive attitude and make a plan. Start your day off with a healthy breakfast, get into work a little early to settle in at your
desk
with a cup of coffee, and avoid rushing. The ability to take your time will reduce stress.
When the Monday lull hits, step up and walk away from your desk. Get your muscles moving and your blood flowing. Regardless of what day it is, sitting for long periods of time causes fatigue. When blood flow is restricted, our muscles tighten up and productivity levels start to drop. Studies show that taking a 5 to 10 minute break one per hour yields awesome results in terms of overall health and wellness int the workplace.
Sure you can take a few minutes to stretch at your desk, but there's no substitute for a little fresh air. Step out for a few minutes at lunch. Go for a walk outside. Sit by a lake to eat. Do whatever it takes to get out of the office for a little bit. You'll return to your
cubicle
refreshed and ready to tackle whatever Monday has to throw at you.
The last thing you need to do is stay active. We've discussed the importance of avoiding extended sits, but
staying active in the workplace
goes beyond standing up and taking breaks. When you arrive at work, stay active with your coworkers. Don't be afraid to ask about their weekend or talk about yours. The important thing is to stay involved and communicating to improve morale.
If you communicate and stay active with the members on your work team, life in the office will be better. Healthy communication leads to effective collaboration. While it sounds simple, if you're avoiding seeing certain individuals at work, Monday's can seem a lot more daunting. Alternatively, if you're in a good mood and looking forward to seeing your coworkers, it's really not so bad.
Keep busy by staying active. A healthy mix of sitting and standing to compute is recommended to keep your muscles moving. If you're looking for ways to work healthy at your desk, a
sit to stand riser
will help. They're available for around $300.00 and make it easy to work smarter, not harder. In the long run, Monday won't stand a chance if you stay active with ergonomic computing habits.