Office Couture: Modern Meeting Tables
Posted by OfficeAnything on Apr 5th 2018
Today in our 'Office Couture' series we'll be showcasing fashionable tables with just the right amount of modern flair. These meeting tables from brands like Bush, Mayline, and OFM are ready to help you create a collaborative workspace that earns an abundance of compliments from its guests. If you're ready to take your corporate meeting area to the next level, you're in the right place!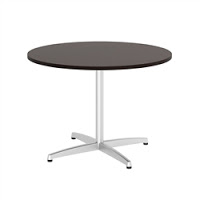 When it comes to fashionable furniture, the team at Bush knows their stuff. This industry leader has made it their mission to craft designer tables that are perfect for collaborating in small meeting areas. The
99TBX42R model 42" round table
from Bush is available in 3 attractive finish options that pair with a silver metal X style base that offers industrial vibes that are hard to beat.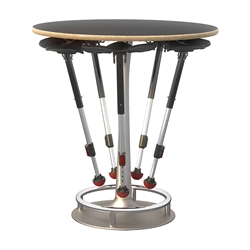 Up next is the Safco Focal Series Collision table. This particular package is paired with Mogo perch stools that are great for keeping workers active. This attractive standing height table avoids the need for extended sits throughout meetings to avoid energy dips and improve blood flow. The Mogo stools that are included can also be easily attached underneath the table surface to create a clean look when not in use. This
ergonomically correct office furniture
package for a meeting area is an absolute winner!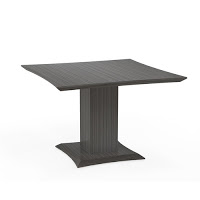 Mayline offers some of the best meeting tables on the market. Take a look at their Sterling collection and you'll quickly see what we mean. The
STC42 square meeting table
from the Sterling Series is all about the details. This high quality table with knife style edges is available in 3 finishes, but Textured Driftwood is the way to go! It will keep your space up to date with the latest trends.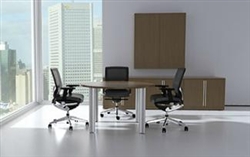 Fourth on our list of
designer tables for an office meeting area
is the VL-868 from the Cherryman Verde Series. This laminate table boasts a spacious 42" top that pairs with modern silver legs to make a statement without being impractical. When paired with matching Verde components you'll be on your way to an exceptional space.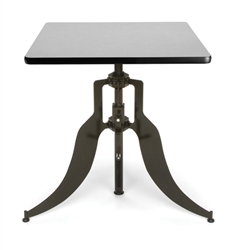 The height adjustable meeting tables from the OFM Endure Series will help you create an industrially inspired space that's ready to adapt at a moments notice. Endure tables like the AT30SQ are built to last. This 36" square top table is great for small areas and available in a variety of attractive finishes.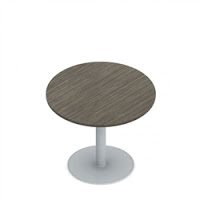 Last on our list of designer meeting tables is the SWP501 from the Global Swap collection. This 36" round meeting table is modern, practical, and clean. Swap tables are taking the furniture world by storm. This trendy new line from Global offers tables in more than 20 finish options. A
Global Swap Series Meeting Table
like the SWP501 will do wonders for your space and won't break the bank.