Office Design 2018: Go Industrial With Metal Components
Posted by OfficeAnything on Apr 17th 2018
The industrial office furniture movement is in full swing. This booming trend is reshaping professional interiors across the country with furniture that's built to last. Metal office components including the tables, desks, and accessories from reputable brands will help you achieve this look without sacrificing quality. Today on the blog, we'll get you up to date on this new office design trend by showcasing some of the coolest metal furnishings on the market for your work environments. Prepare to be impressed!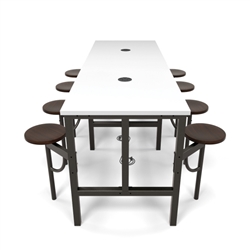 OFM Endure tables helped set the industrial furniture movement in motion. These well rounded tables offer the perfect blend of retro and contemporary vibes. An
OFM Endure collaborative table
like the 9008 model will help you power up any interior with surface level USB inputs. These standing height tables with heavy duty metal legs also boast swivel out seats that make it easy to transition between sitting and standing.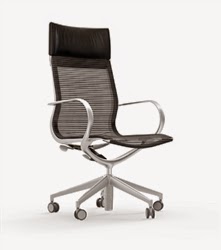 Chairs with metal components will also help you create industrially inspired interiors. Take look at the Curva from iDesk to see what we mean. These
top of the line office chairs
with brushed aluminum frames and a titanium finish are truly elite. Popular options like the CUR105 are a bit pricey, but supremely stylish and equally comfortable.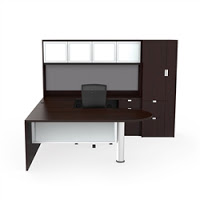 Cherryman specializes in the provision of high quality office furniture that will help refine your professional interiors. Their
Jade series office desk
configurations are a favorite of design teams and industry professionals. With a blend of wood and metal accents, Jade workstations are very appealing. The modesty panels, hutch door trim, and handle pulls work cohesively to ensure your keying in on all of 2018's trends.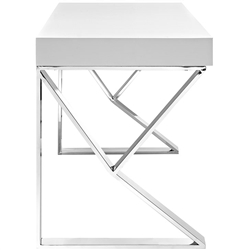 Moving right along, allow us to introduce the
EEI-2047 Adjacent desk
from Modway. This home writing desk will immediately catch your eye with its polished chrome legs and abundance of contemporary flair. This fashionable workstation keys in on the industrial movement without needed an old-school look to do it.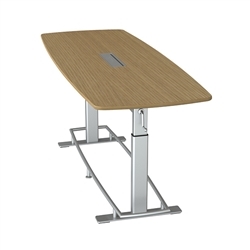 There's lots of great ergonomic tables available in 2018, but the Confluence from the Safco Focal series is our favorite. This
standing height conference table
with an adjustable base will help keep your meeting guests active while simultaneously tapping into the modern-industrial movement.
Metal office accessories will help pull your industrial vibe together. If you're also wanting to improve the rate at which you compute, a dual screen monitor arm is the way to go. We love the
AC99832-03
from Bush. This black metal attachment will help you create more usable desk space while providing you with the ability to minimize visual strain.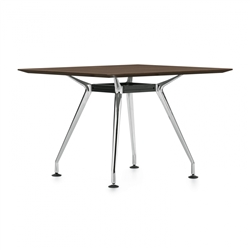 If you're limited on space it's no biggie. A metal meeting table from the Global Kadin collection will help you create on-trend interiors with just the right amount of flair. The LKD4242 Kadin table with a 42" square top and fashionable metal legs is ready, willing, and able to rock your remodel.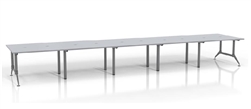 Open concept benching is the way of the future. As traditional cubicle systems are being kicked to the curb as they make work environments feel overcrowded, collaborate lines like WorkTables from Mayline are becoming more and more popular. This line of modular tables can used effectively for projects of any size to spark creativity and modernize interiors.