Refine Your Meeting Area With OFM Tables
Posted by OfficeAnything on Sep 6th 2018
The team at OFM has made it their mission to craft elite furniture and seating that's ready for the demands of the modern workplace. If you're meeting area is in need of a makeover, OFM has your back. Today on the blog we'll showcase 5 of OFM's hottest table collections and the features that make them a must consider for your project.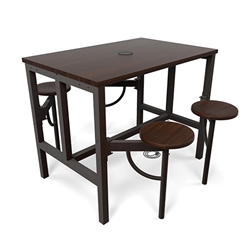 First up is the OFM Endure series. This line of
best selling tables
offers an unrivaled combination of style and functionality. Even at first glance, OFM Endure tables will catch your eye with retro-industrial vibes. That being said, these tables are truly cutting edge. With standing height surfaces and swivel out seats, Endure tables make it easy to collaborate while sitting or standing. The powered table tops are nice touch that will take your meetings to the next level. Choose from a variety of sizes and finish combinations to make your interior pop!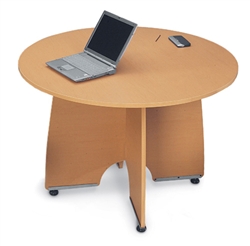 Up next is the 55129 model
43" round meeting
table that requires no tools for assembly. If the remodeling process has you feeling a bit overwhelmed, this awesome table from OFM is ready to ease your worries. The 55129 is modern while remaining practical and professional. At just $355.99, this table is a great buy that will expedite your project.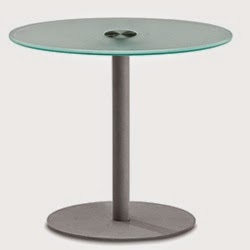 The OFM Net series offers some of the coolest
multi purpose tables
on the market. Just check out the NGT-1 model pictured here! The heavy duty metal base and frosted glass top will no doubt earn your space the compliments it deserves. With a wide array of matching seating, the Net series is a one stop shop for your makeover.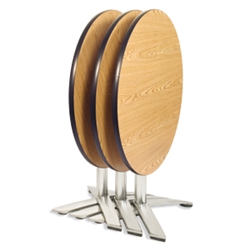 When office space is at a premium, you've got to be able to adapt on the fly. With
OFM meeting tables
like the FT42RD you'll be ready for anything. These multi purpose meeting tables offer nesting capabilities that make for easy nesting along perimeter walls when not in use. When it's time to host a group strategizing session, simply drop the top and get to work!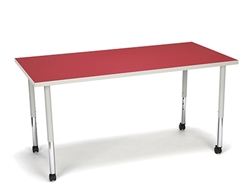 Last but not least are the
modular office tables
from the OFM Adapt series. This all new line makes it easy to think outside the box and get down to business. With Adapt tables, the layout possibilities are endless. These easy to use tables are available in a variety of sizes, shapes, and cool finish options. Adapt tables can be purchased individually, or in sets to meet your specific needs and space requirements. The best part is, these tables are very budget friendly. The 60" x 30" Adapt table with a rectangular top pictured here is available now for just $245.99. It just goes to show, you don't have to break the bank to create a professional meeting area.