Rise To The Occasion With Aberdeen
Posted by OfficeAnything on Jan 30th 2019

The Mayline Aberdeen collection now offers height adjustable desks that make it easy to transition between sitting and standing. This popular furniture line is rapidly becoming the preferred choice of executives looking to design ergonomically correct interiors that are up to date with the latest trends.
Aberdeen
height adjustable office desks
are available in 4 quick shipping laminate finish options that are durable and scratch resistant. With an array of matching components including file cabinets, bookcases, and storage pedestals, refining your interior is easier than ever.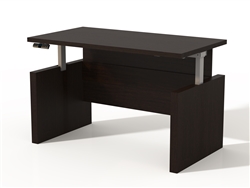 With an
Aberdeen sit stand desk
you can raise or lower your operating surface at the push of a button. These days, most business executives don't like the idea of using bulky desktop risers atop their beautiful furniture. Needless to say, they can be a bit of an eyesore.
In terms of value, the
adjustable ergonomic workstations
from the Aberdeen collection are pretty budget friendly. The ARDH7230 model is the most affordable at $992.99. This is pretty comparable to a variety of non-adjustable executive desks from competing manufacturers.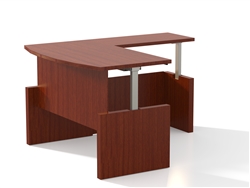 Need a bit more operational space? No problem! The Aberdeen series offers adjustable
L shaped desks for sale
like the AT56 for $1483.99. This station includes a 72" bow front desk that pairs with a matching return that also raises.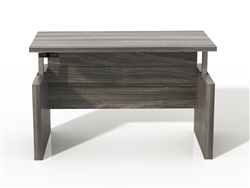 Height adjustable desks and ergonomic furniture make it easy to stay active throughout task filled work days. Most healthcare professionals recommend taking at least one 10 minute break per hour to refresh your muscles and get the blood flowing. Unfortunately, this isn't always practical. With an adjustable desk you can maintain productivity levels by continuing to compute from the standing position. While it's still good idea to take breaks, you certainly won't need as many to stay refreshed.
Not all desks that raise and lower are created equal. The
Aberdeen series
offers exceptional quality that's backed by an abundance of customer reviews. The ability to create ergonomically correct work environments that can adapt on the fly to meet the needs of any task has Aberdeen in the upper echelon of furniture collections.