Training Room 101: Invest In Mobile Nesting Tables
Posted by OfficeAnything on Dec 12th 2018
When the time comes to purchase new training room furniture for your business, invest in mobile tables with nesting capabilities. Why you ask? Functionality and versatility. With nesting tables you can get the most out of your square footage and adapt on the fly to meet the needs of any task. Mobile nesting tables make it easy to collaborate effectively and think outside the box with your space to improve performance. Today in our 'Training Room 101' blog series we'll showcase the hottest mobile nesting tables on the market. Enjoy!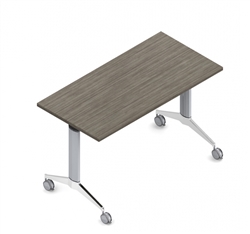 First up are the all new luxury nesting tables from the Global Terina collection. If you're going for a cutting edge look, Terina tables are the way to go. With multiple size and finish options available, Terina tables can be used in training rooms of any size. Terina combines style and functionality to create some of the most
popular training tables
of 2018.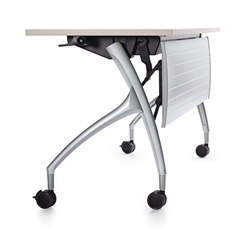 You'll also want to check out the
mobile nesting tables for sale
from the Global 2Gether series. They're available with a variety of accessories including modesty panels and daisy chained power modules to help streamline team strategizing sessions.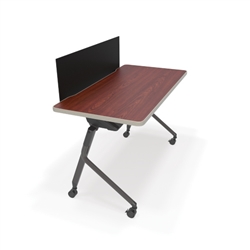 The flip top nesting tables from the OFM Mesa series are very well made and easy to use. A
Mesa training room table
configuration will help you create multi-purpose work areas that can be used for testing and group tasking. Popular Mesa tables like the 66123 even include flip up privacy panels!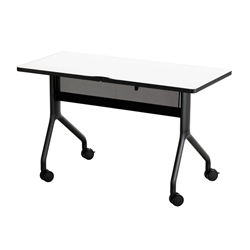 When it comes to
professional training room furniture
, Safco knows their stuff. Their Rumba series has been a favorite of interior design teams and industry professionals for nearly 10 years. Rumba tables are a bit pricey, but you definitely get what you pay for. These nesting tables are very durable and simple to operate.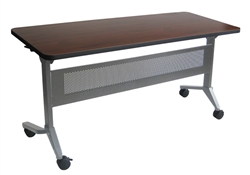 Mayline Flip-N-Go tables provide exceptional value and functionality. Popular
Flip-N-Go training room tables
like the LF2460 offer ample surface space and heavy duty metal frames with integrated wire management troughs. Mayline training tables are made to order and take a few weeks to manufacturer, but they're definitely worth the wait.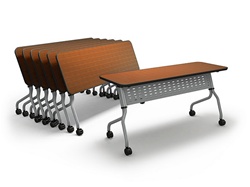 We can't say enough good things about the professional tables from the Mayline Sync collection. They're great for training and classroom use. They're cost effective. They're incredibly well made, and the list goes on! Sync tables nest along perimeter walls to save space when not in use. Simply drop the tops and roll them into position when you're ready to get down to business. With Sync, the layout possibilities are endless. Choose from a variety of popular size and finish options to meet your specific needs.