Types of Office Desks and Workstations for Max Productivity
Posted by Office Anything on Jul 6th 2020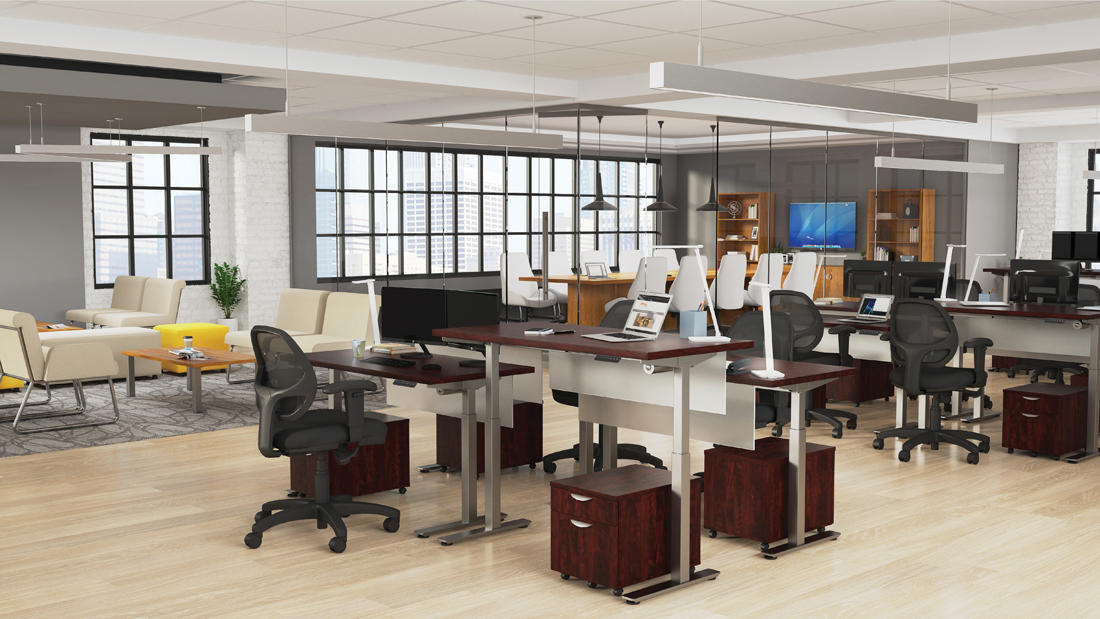 In order to maximize productivity, you must have a clean, quiet space and an office desk that fulfills all your work needs. At Office Anything, we have been providing high-quality office furniture since 1995 to both businesses and individuals seeking comfortable, durable, and affordable furniture. We have put together this guide in order to help you choose the office desk that best suits you and your workspace.
A work station or a space you designate solely for working will help you focus and increase your productivity, especially if there is a window nearby that illuminates it with natural light. Aside from the appropriate work environment, you will also need a desk that is high quality, comfortable to work on, and can accommodate you and your needs. Explore our 5 types of office desks and workstations for max productivity below in order to find the right one for you.
Computer Desks have a wide ample surface area so that you can place your computer, printer, and fax on top and still have enough space for notepads, office materials, and writing utensils. If you are the type of person that likes switching around the furniture often or moving your desk in order to get the best lighting possible then you will like our Modway Raise Industrial Desk with Wheels. The wheels will allow you to move the desk anywhere you'd like, making it perfect for when you have to move out or store the desk away to make space for other projects. The wooden surface is elegant and will give your office space an attractive look and feel.
Writing Desks are more minimalistic than computer desks or executive desks and tend to have fewer drawers and compartments. The Modway Render Contemporary Walnut Writing Desk is sleek and will adapt well with your interior decoration if you have a lot of wooden tones in the home. The fewer items you have on your desk, the easier it will be to concentrate and get your work done quicker. This desk comes with two drawers that camouflage within the desk for a simplistic and decluttered workstation that will help you complete all your tasks in an orderly fashion.
If you don't like sitting all day you might be interested in looking at your collection of Standing desks. Sitting for prolonged periods of time can cause health implications, with our curated selection of standing desks you will be able to find a desk that suits your body's needs and your work ethic. The Bush Series C Elite 72W Height Adjustable Standing Desk with Credenza and Storage will adjust to you and your body type, due to its height-adjustable feature. With the Bush Series Elite, you can work while sitting or standing depending on your mood and energy levels. With this desk, you will be able to improve your posture, health, and focus.
No matter which desk you choose, at Office Anything we can assure you will be receiving a high-quality and durable office desk with an attractive design. If you have any questions or need help picking an office desk, contact us and our team will assist you in picking out a desk that's just right for you.