How To Properly Arm Your Office For Ergonomic Combat
Posted by OfficeAnything on Aug 6th 2018
Pain, fatigue, and poor blood flow are your enemies in the workplace. To fight back, you must arm yourself! Today on the blog we'll highlight ergonomic office products that are up to the task. These office solutions offer the versatility and adjustment capabilities needed to help you adapt on the fly to remain healthy and productive while tasking.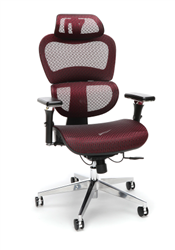 It's important to know who your enemies are and what you're fighting for. In this case it's office epidemics like fatigue, poor posture, strain, and restricted blood flow. These evil forces work together to limit productivity. Simply sitting for hours on end without consistent movement can actually shorten your life span. It's important to create a well rounded ergonomic arsenal consisting of versatile products designed to help you stay at your best.
The first thing you'll need for ergonomic combat is a reliable office chair with helpful adjustment features. It will serve as a key ally in your quest for comfort. The right office chair can be a bit tricky to find. There's literally thousands upon thousands of options on the market that all claim to be "ergonomically correct" and ready to meet your needs. Your best bet is to test as many chairs in person as you can. You can also read reviews and watch demo videos online to educate yourself before making a purchasing decision. To help, we've provided you with 5 of our favs below.
Popular Office Chairs:
Eon by Cherryman
Sora by Global
Core by OFM
Ergohuman by Eurotech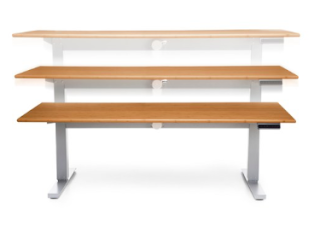 Once you've laid the foundation for a comfortable work day with a high quality chair, it's time to arm your workstation. You can certainly invest in an all new
sit to stand desk
with push button controls. They can be a bit pricey, but they're incredibly beneficial. Electric sit to stand desks encourage continuous movement in the workplace and make it easy to transition smoothly with minimal strain. Popular desk collections like Studio C from Bush offer some of the best sit to stand workstations on the market.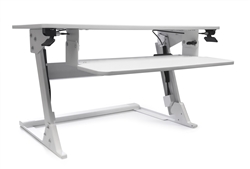 If funds are limited, don't worry. You don't have to purchase an electric sit to stand desk to stay active. A cost effective
desktop attachment with a built in keyboard tray
will provide you with the same functionality. We recommend the Volante from Systematix for just $299.99.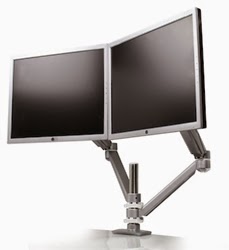 You might not want to set a large sit to stand attachment on top of your beautiful office desk. If this is the case, the combination of a sit to stand keyboard tray and monitor arm will solve the issue. This ergonomic pair goes together like peas and carrots. An
articulating keyboard tray with sit to stand capabilities
will help you create usable work surface space while an adjustable dual screen monitor mount will help reduce visual. Now that sit to stand keyboard trays and monitor arms are available, they're rapidly becoming the go to combo for workers looking to stay productive.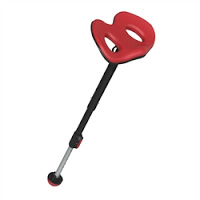 If you work in multiple areas throughout the day, an
ergonomic perch stool
is definitely worth considering. They encourage continuous muscle activity and offer the portability needed to accompany you from space to space. Popular perch stools like the Mogo from Safco make exceptional weapons in any ergonomic arsenal.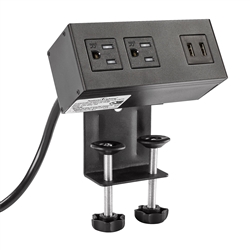 Part of the battle is saving time and improving efficiency. That's why surface level power ports that clamp to desk surfaces have become so popular. They're affordable, effective, and limit the time you have to spend underneath your desk to route wires and find power inputs. Popular clamp on modules like the AC99834BL power hub from Bush even come equipped with USB ports that come in handy when charging your phone throughout the work day. At just $91.99, the power hub is hard to pass up!
In the long run, the difference is in the details. Your battle against office ailments can be won with key ergonomic products, but you'll also need to put in the time required to master them. When you invest in new office components, read the manuals and test the products thoroughly. Learn how to get the most out of them so you can head into ergonomic combat with confidence.