Introducing The All New Marie Chair From Woodstock Marketing
Posted by OfficeAnything on Jan 7th 2019

Woodstock Marketing specializes in the provision of mid century inspired seating solutions. Take one look at their all new Marie chair and you'll quickly see what we mean! The Marie chair offers on-trend design characteristics and the cool color options needed to refine both home and commercial work environments.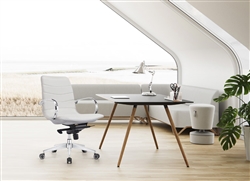 Rebased just last week, the Marie is already making an impression on interior design teams and industry professions. These
mid back chairs
blend contemporary and mid century vibes that are sure to earn interiors the compliments they deserve.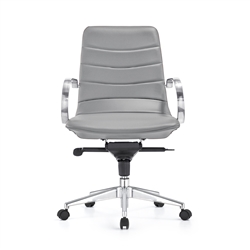 This first thing you'll notice about the
Marie chair
is the unique ribbed back design. Upon closer inspection the chairs polished arms and base will draw you in for a sit that you won't soon forget. The contoured upper back avoids restricting upper body movement while the well padded structure provides ample support.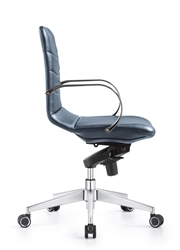 Marie chairs are available in 5 Nappa leather upholstery options. Traditional tones like Carbon Black and Chestnut brown are available for a more practical look while contemporary options like Charcoal Blue will put a unique spin on your workspace.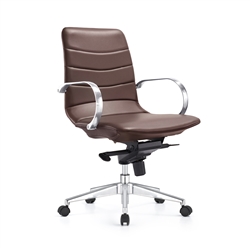 At $415.00 the Marie chair is a great buy. These chairs are very well made and perfectly suited for a variety of common office environments. The versatility of the chair design is sure to make Marie one of the
best new office chair
lines in the final weeks of 2018.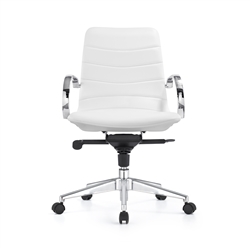 If you're shopping for a chair with tons of ergonomic adjustment features, the Marie probably won't be your first choice. While equipped with a knee tilt mechanism, tilt lock, and tilt tension controls, the Marie is not the best option for all day tasking. These new
chairs from Woodstock Marketing
will find their niche in professional conference room environments.
The ability to support users up to 300 pounds speaks to the quality of these new chairs. Marie offers generous dimensions and an 11 ply plywood structure that creates a solid feel. These chairs will certainly make your interiors feel upscale.
We're excited to see how the seating world responds the Marie office chair line. The unique look and feel of these chairs has us very encouraged. While keying on a variety of past and current trends, the Marie still manages to pull off a fresh new look that's easy to appreciate.